Made it to another weekend (almost). Hooray for wines, roadtrips and sleeping in.
Let's start our letters off with my new fave show.
Dear Allllllana aka Honey boo boo, Homegirl - please believe that I you, your family and a bottle of wine makes for a pretty redneckulous evening.I love that they had to close caption everything y'all said. You're pretty much my new weeknight ritual, and I'm okay dealing with your(eeerr- the wine's) wrath on Thursday
Dear New Desktop, oooooh. You so pretty. You really make work so much more fun. Chevron, Pink and Monogram, how could I NOT love you.
(sorry for the crap-tastic iphone picture)
Dear Chambray shirt, I need you...In my closet by the time I get home from work. These outfits will explain, in detail, why I'm in need.
via
Dear Dr. Stephanie, I'm so proud of you - Can't believe one of my bestest friends is a DOCTOR, and in just a few short months you're getting married!!! I love you dearly, and I'm so glad you're moving back to Orlando!!
Dear Nyquil, Thank you so much for helping me fall asleep at 8:15, and wake up feeling like a new person. I should make that a weekly thing. #howoldamI
Dear YOU ladies, I feel weird calling y'all 'readers', but nevertheless you guys are amazing. Thank you for all your comments, advice and loving words. You make me smile, day in and day out.
and lastly..
Dear Husband-Of-Mine, Sometimes you be cray, but I love you more and more each day. (nice, rhyme) You have been showering me with love, and little gifts lately. I'm so excited for our little trip this weekend. This picture is to honor your first love, The gators..
Make sure to link up with us over at Ashley's blog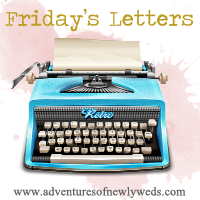 Happy Friday loves!